With in-house quality testing and certification, you can count on quality materials delivered with proper documentation.
Inconel Seamless Tube Manufacturer
---
SEAMLESS: ASTM B167 Inconel Seamless Tube | ASME SB167 Inconel Seamless Tube | ASTM B163 Inconel Seamless Tubing
---
Inconel Seamless Tube, ASTM B167 Inconel Seamless Tubes, Inconel Alloy Seamless Tubo, ASME SB163 Inconel Seamless Tubing Manufacturer in India, Inconel Smls Tubes Supplier in Qatar, Inconel Seamless Tubing Exporter in Australia.
Inconel seamless tubes are a critical component in industries where extreme temperatures, high-pressure conditions, and corrosive environments are prevalent. These tubes are crafted from various Inconel alloy compositions, each tailored to meet specific performance requirements. The key advantage of using seamless tubes lies in their absence of welded seams, which can be susceptible to stress corrosion and weaken the overall structure. This makes Inconel seamless tubes highly desirable for applications where reliability and durability are paramount.
One of the standout characteristics of Inconel seamless tubes is their exceptional high-temperature resistance. Inconel alloys, renowned for their stability and strength at elevated temperatures, enable these tubes to perform consistently in environments ranging from cryogenic levels to well over 2,000 degrees Fahrenheit (1,093 degrees Celsius). This property is particularly valuable in applications like aerospace, where engine components, exhaust systems, and combustion chambers must endure extreme heat without deformation or degradation.
Furthermore, Inconel alloys possess remarkable corrosion resistance. They exhibit resistance to a wide range of corrosive agents, including acids, alkalis, and seawater. Inconel seamless tubes are commonly employed in the chemical processing industry, where they help transport and contain corrosive chemicals safely. This resistance to corrosion ensures the longevity of the tubes and minimizes the risk of leaks or failures, which can have severe consequences in chemical processing operations.
In addition to aerospace and chemical industries, Inconel seamless tubes find applications in other sectors such as oil and gas, petrochemical, and power generation. In these industries, the tubes are used in heat exchangers, boilers, and various components of high-pressure systems. The combination of high-temperature resistance and corrosion resistance makes Inconel seamless tubes a trusted choice for critical components, where the failure of a single part can lead to costly downtime, safety hazards, or environmental risks.
Inconel 601 Seamless Tubing Exporter in Dubai, Inconel Smls Tubing, Alloy 718 Seamless Tubes, ASTM B163 Inconel Smls Tubes Stockiest, Supplier.
Inconel Seamless Tubes Standard Specifications
ASTM B163 Standard Specification for Seamless Tubes Nickel and Nickel Alloy
This specification covers seamless tubes of nickel and nickel alloys, for use in condenser and heat-exchanger service.
ASTM B167 Standard Specification for Stainless and Heat-Resisting Chromium-Nickel.
This specification covers the standard for stainless and heat-resisting chromium-nickel steel plate, sheet, and strip. The steel shall conform to the requirements as to chemical composition in carbon, manganese, phosphorus, sulfur, silicon, chromium, nickel, and molybdenum.
Let's discuss about your ongoing project
Size Range
Outer Diameter: 6.00 mm to 101.40 mm
Wall Thickness: 0.70 mm to 8.00 mm
Length: Upto 24 Meter
Specifications: ASTM, ASME, DIN EN (GERMAN), NF (AFNOR), JIS (JAPAN)
Supply Condition
Bright Annealed / Solution Annealed & Passivated
Features
Ability to supply tubes with stringent NDT Testing, Special Chemistry, Lower Residual Stress values.
OD Polishing : Grit Polish from 120 to 600.
Closer Dimensional Tolerance & higher Corrosion Resistance etc.
We offer customized cut Length to save time of our customers.
Inconel Seamless Tube Quality Control
To ensure a quality product, MPJ is holding certificate ISO 9001:2015, ISO 45001, OHSAS 14001, & CE-PED. We are also members of various renowned agencies and Chambers of Commerce including MASSMA, EEPC, FICCI, FIEO, Indian Merchants Chamber, etc. With state-of-the-art manufacturing processes, contemporary technologies, and proficient services, we consider: offering the finest quality, best in class products. Compliance with specifications as per standards, Outer Diameter, Thickness, Inside Diameter, Inside Finish, Marking, Ends, and Finishing. This ensures that we never face a rejection of the Inconel Seamless Tube supplied.
Brand –
Inconel Seamless Tubing are marked in requirement of the international standards. Format: " BRAND-SIZE-SPECIFICATION-GRADE-HEAT NUMBER-LOT NUMBER "
This marking helps for the identification of the Inconel Inconel Alloy Seamless Tube and supported with the Material Test Report. It is 100% traceable to our mill.
Available Inconel Seamless Tubing Grades
Inconel SMLS Tubes Packing & Documentation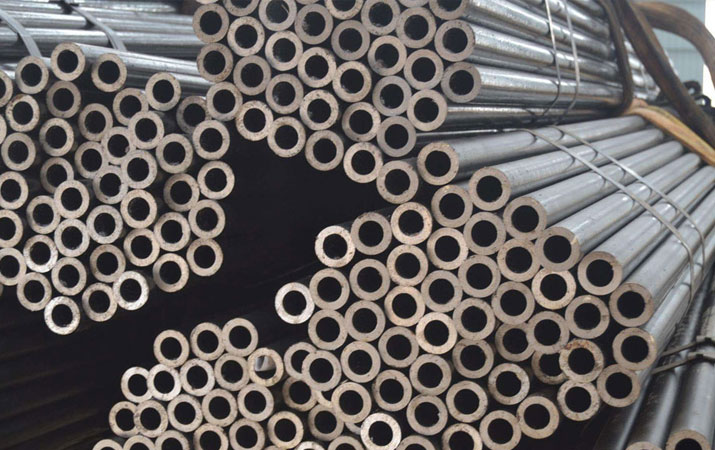 ASTM B167 Seamless Tubes are surface wash and clean to remove all impurities and stock in the warehouse. Then it is wrapped in thin plastic and also it ends are protected by plastic caps to avoid any damage in transit. Inconel Seamless Tube is bundled in bubble wrap followed by assorting them in colored plastic bundles. An outer rope is tied to protect the tubing and they are packed in wooden box or container.
MPJ Provide Inconel Seamless Tube and Inconel 601 Seamless Tubes with all necessary documents such as commercial invoice, packing list, Test Reports, HS Code, Country of Origin attested by the chamber of commerce, Fumigation Certificate, Warranty Letter, and Base Material Certificates. Every lot is supplied with a material test certificate as per EN 10204 NACE 3.1 standards indicating the chemical and mechanical properties of the Inconel Seamless Tubing.
We also confirm the guarantee of the Inconel Seamless Tubes supplied as per Purchase order specifications and attest the same in the Material Test Certificate. We also welcome any third party inspection from an agency nominated by the customer to comply with NACE 3.2 Certification if required by the customer at an extra cost.
Inconel Seamless Tube Application Industries
Oil & Gas Exploration
Petrochemicals and Refineries
Cross Country Pipe Line for Gas & Water
Pipes for Engineering purpose
Thermal, Nuclear and Solar Power Plants
Desalination Plants
Chemical Industries
Aerospace
Atomic Energy
Pharmaceutical
Food and Dairy
Automobile
People Also Search For
ASTM B163 Seamless Tubes Supplier in Australia | ASTM B167 Inconel Seamless Tube | ASME SB163 Inconel Seamless Tubes Exporter in Qatar | Inconel Seamless Tube | Inconel Seamless Tube Stockiest in India | Inconel Alloy Seamless Tube | Inconel Seamless Tube Specification | Inconel Seamless Tube Stockiest in India | Inconel SMLS Tube | ASTM B167 Inconel Seamless Tubes | Inconel Seamless Tubo | Inconel Seamless Tube Sizes in Stock | Inconel Tube Forms in Stock | 718 Inconel Seamless Tube.
Inconel Seamless Tube Inspection & Material Specification | ASME SB167 Inconel Seamless Tube Size | ASTM B163 Seamless Tube Installation | Inconel Seamless Tubes Exporter in Qatar | Inconel Seamless Tube Installation Guidelines | Inconel Seamless Tube OD | Inconel 24″ NB Seamless Tube Supplier in South Africa | Inconel 0.5 mm Seamless Tube | Inconel Alloy Seamless Tubing | Inconel SMLS Tube | Inconel Seamless Tubes Price in India | Inconel Seamless Tube Dimensions, Diameter, Thickness and Drawing | Inconel Seamless Tube Stockiest in India.
Industrial Pipes & Tubes Supply and Export Network Countries List
| | | | |
| --- | --- | --- | --- |
| Albania | Andorra | Armenia | Austria |
| Azerbaijan | Belarus | Belgium | Bosnia and Herzegovina |
| Bulgaria | Croatia | Cyprus | Czech Republic |
| Denmark | Estonia | Finland | France |
| Georgia | Germany | Greece | Hungary |
| Iceland | Ireland | Italy | Kazakhstan |
| Kosovo | Latvia | Liechtenstein | Lithuania |
| Luxembourg | Macedonia | Malta | Moldova |
| Monaco | Montenegro | Netherlands | Norway |
| Poland | Portugal | Romania | Russia |
| San Marino | Serbia | Slovakia | Slovenia |
| Spain | Sweden | Turkey | Ukraine |
| United Kingdom | Vatican City | | |
| | | | |
| --- | --- | --- | --- |
| Algeria | Angola | Benin | Botswana |
| Burkina Faso | Burundi | Cabo Verde | Cameroon |
| Central African Republic (CAR) | Chad | Comoros | The Democratic Republic of the Congo |
| Republic of the Congo | Cote d'Ivoire | Djibouti | Egypt |
| Equatorial Guinea | Eritrea | Ethiopia | Gabon |
| Gambia | Ghana | Guinea | Guinea-Bissau |
| Kenya | Lesotho | Liberia | Libya |
| Madagascar | Malawi | Mali | Mauritania |
| Mauritius | Morocco | Mozambique | Namibia |
| Niger | Nigeria | Rwanda | Sao Tome and Principe |
| Senegal | Seychelles | Sierra Leone | Somalia |
| South Africa | South Sudan | Sudan | Swaziland |
| Tanzania | Togo | Tunisia | Uganda |
| Zambia | Zimbabwe | | |
| | | | |
| --- | --- | --- | --- |
| Antigua and Barbuda | Bahamas | Barbados | Belize |
| Canada | Costa Rica | Cuba | Dominica |
| Dominican Republic | El Salvador | Grenada | Guatemala |
| Haiti | Honduras | Jamaica | Mexico |
| Nicaragua | Panama | Saint Kitts and Nevis | Saint Lucia |
| Saint Vincent and the Grenadines | Trinidad and Tobago | United States of America | Argentina |
| Bolivia | Brazil | Chile | Colombia |
| Ecuador | Guyana | Paraguay | Peru |
| Suriname | Uruguay | Venezuela | |
| | | | |
| --- | --- | --- | --- |
| Afghanistan | Armenia | Azerbaijan | Bahrain |
| Bangladesh | Bhutan | Brunei | Cambodia |
| China | Cyprus | Georgia | India |
| Indonesia | Iran | Iraq | Israel |
| Japan | Jordan | Laos | Lebanon |
| Malaysia | Maldives | Mongolia | Myanmar (Burma) |
| Nepal | North Korea | Oman | Pakistan |
| Palestine | Philippines | Qatar | Russia |
| Saudi Arabia | Singapore | South Korea | Sri Lanka |
| Syria | Taiwan | Tajikistan | Thailand |
| Timor-Leste | Turkey | Turkmenistan | United Arab Emirates (UAE) |
| Uzbekistan | Vietnam | Yemen | |
| Australia | Fiji | Kiribati | Marshall Islands |
| Micronesia | Nauru | New Zealand | Palau |
| Papua New Guinea | Samoa | Solomon Islands | Tonga |
| Tuvalu | Vanuatu | | |